Have you ever noticed how some footballers bear an uncanny resemblance to each other? It's as if they were twins from the same mother. In this post, we'll explore the fascinating world of footballers who look like each other. Not only do they share the same profession fans often make many statements regarding their similarness on social media. While some may exhibit subtle similarities, others are nothing short of astonishing, few footballers look like they're from a parallel universe.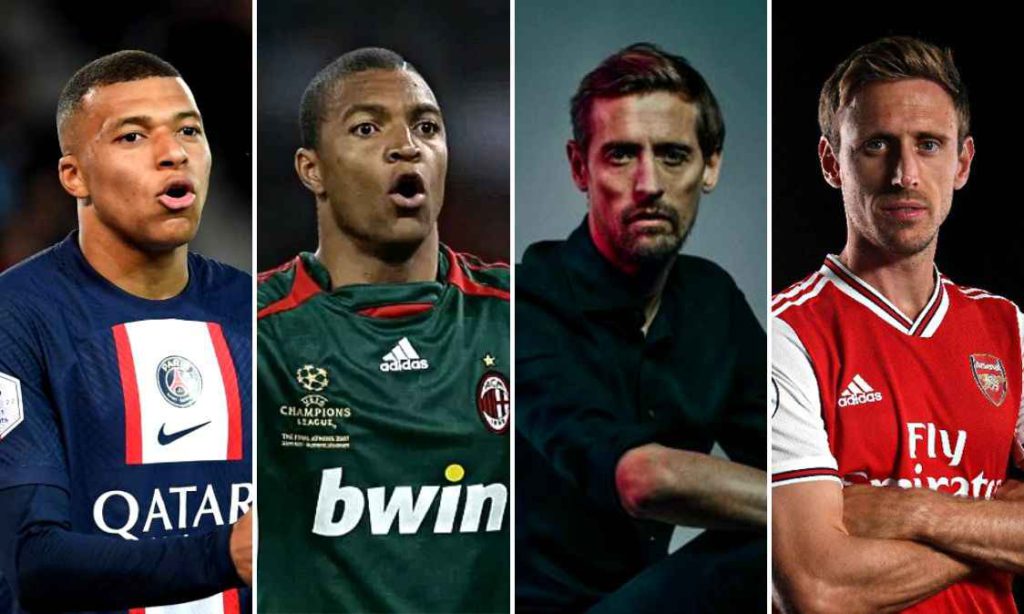 List of footballers who look like each other
So, let's take a closer look at these famous footballers who are identical to each other!
9. Vinicius Jr and Krepin Diatta
Let's kick things off with our first duo, Real Madrid superstar Vinicius Jr and Krepin Diatta! Brazilian footballer Vini Junior is often regarded as the next big superstar in the football world and is lightning the Spanish League with Madrid.
Meanwhile, his doppelganger Krepin Diatta may not be as famous as Vini but has also made a name for himself in the world of football. The Senegalese currently plays his club football for Ligue 1 club Monaco.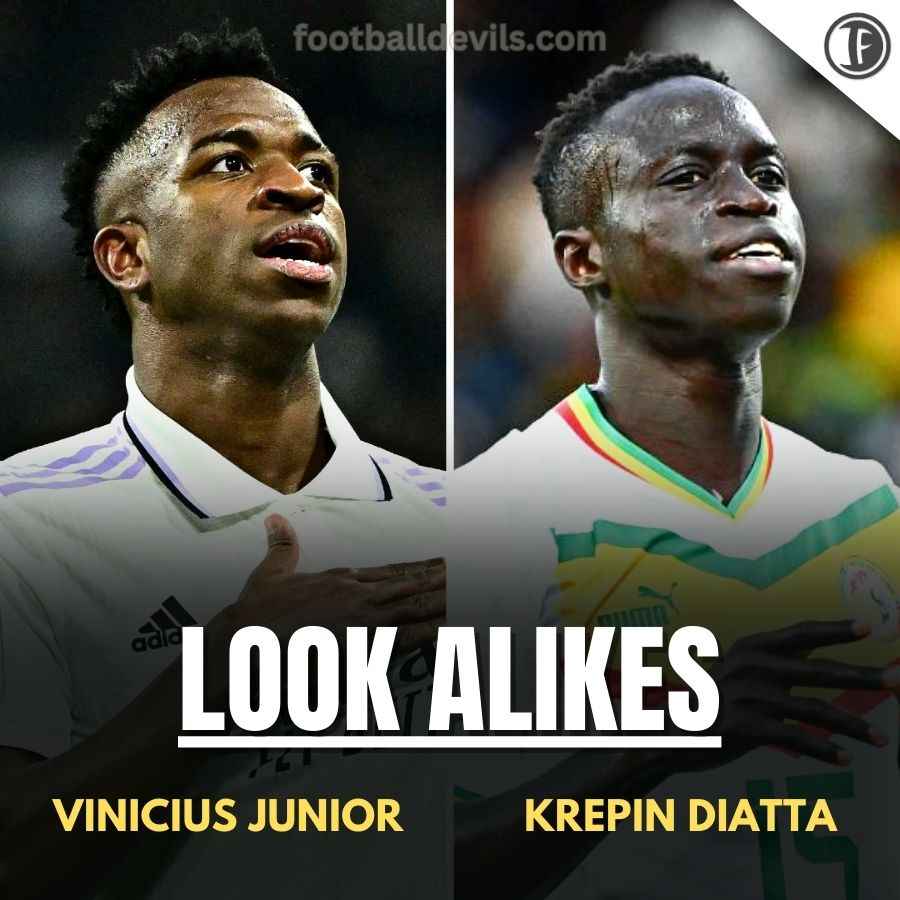 It's remarkable how they share striking resemblances. Both Vinicius Jose Paixao de Oliveira Junior and Krepin possess the same skin complexion, facial structure and even a similar hairstyle. On top of that, both athletes are almost similar in terms of height and both play as a winger.
Fans across the globe have taken to social media, posting side-by-side photos and expressing their amazement at the similarity of Vini and Diatta. The internet is still overflowing with memes and humorous captions.
---
8. Kylian Mbappe and Dida
Moving into the next list, the pair of Kylian Mbappe and Dida also stands out when it comes to footballers who look like each other. French Kylian Mbappe is probably the biggest name in football this decade he plays for PSG (Paris Saint-Germain). The lad is breaking records like a piece of glass.
Meanwhile, Dida aka Nelson de Jesus Silva, is a former Brazilian footballer who played as a goalkeeper. They may have different age profiles and positions on the pitch but you cannot ignore the physical similarities.
The striking similarities between Kylian Mbappe Lottin and Dida go beyond what meets the eye. From their matching skin complexion, short hair, and facial structure, it's hard not to do a double-take when comparing these two football icons.
So much so, in fact, that a viral post once cheekily suggested they were father and son, as Dida is 25 years older than Mbappe. While it provided a good laugh for internet users, let's set the record straight and clarify that the claim was nothing more than a delightful fabrication.
Nevertheless, the undeniable resemblance between Mbappe and Dida continues to captivate fans and spark lively discussions about the intriguing world of lookalike players.
---
7. Luis Suarez and Roy Makaay
Another notable pair when it comes to footballers who bear a striking resemblance to each other are Luis Suarez and Roy Makaay (Rudolphus Antonius "Roy" Makaay). Luis Suarez, the Uruguayan forward renowned for his predatory instincts in front of the goal. Meanwhile, Roy Makaay is from the Netherlands and he also played as a striker and was known for his goal-scoring ability with quick runs and aerial power.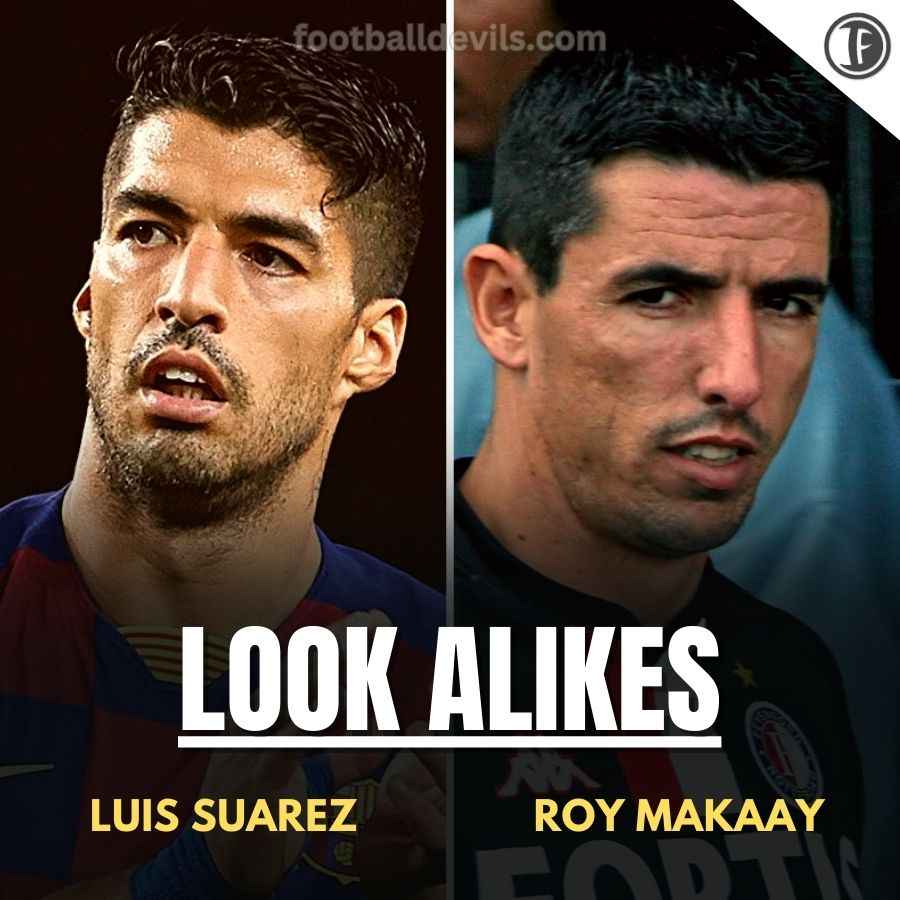 Luis Alberto Suarez Diaz possesses a distinct facial structure that closely mirrors that of Roy Makaay, from their expressive eyes, short hairstyle, and iconic Suarez-like mouth, the resemblance between Suarez and Makaay is hard to ignore.
Currently, Suarez plays for Serie A club Gremio and still going strong meanwhile Makaay is pursuing his managerial career as he is 12 years older than the Urugaian.
---
6. Salvatore Sirigu and Vicente Iborra
The pair of Salvatore Sirigu and Vicente Iborra fall under the category of famous footballers who look like each other. Salvatore Sirigu is the Italian goalkeeper known for his commanding presence and exceptional shot-stopping abilities. Vicente Iborra is a Spanish midfielder renowned for his physicality and versatility.
The resemblance between Salvatore Sirigu and Vicente Iborra is so striking that distinguishing their images becomes a near-impossible task. They are like two lost twin brothers in a fair.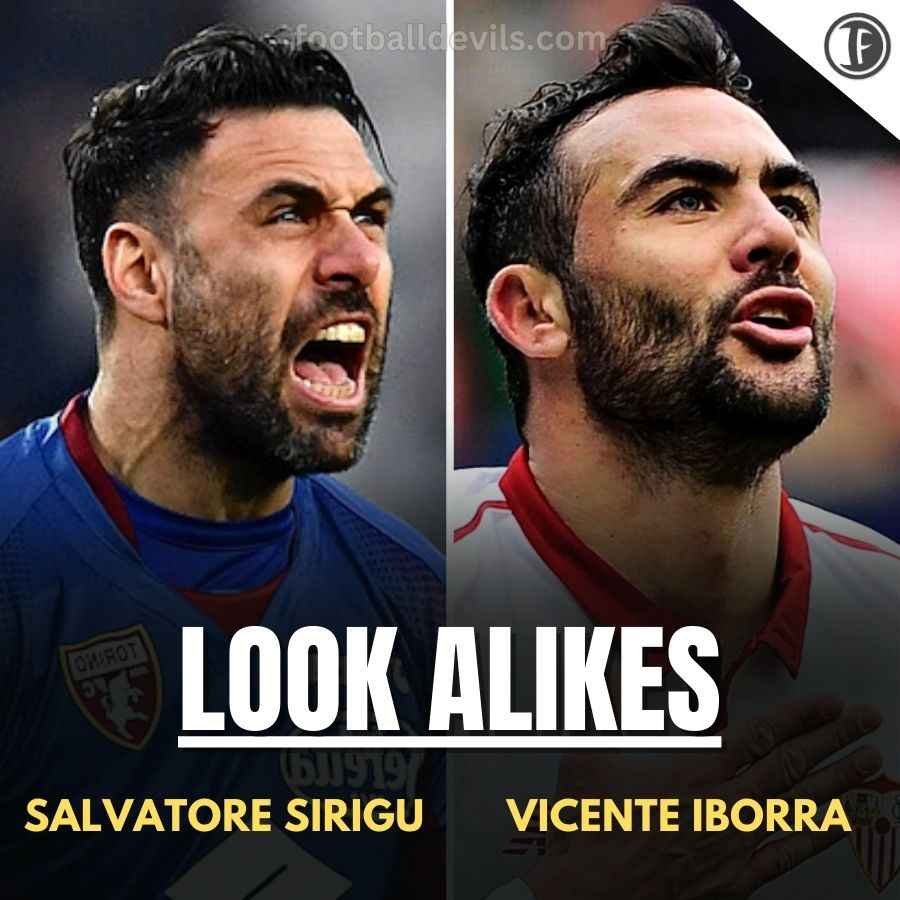 Not only do they share a similar build, characterized by their imposing stature and muscular physiques, but their uncannily similar beards, hairstyles, facial structure, eyes, and overall appearances make it challenging to tell them apart.
Currently, Sirigu aka Salvatore Sirigu Cavaliere OMRI is playing his professional club football for Serie A club Fiorentina. On the other hand, Spanish Vicente Iborra de la Fuente plays as a defensive midfielder for Levante, on loan from Villarreal.
---
5. Giorgio Chiellini and Adane Girma
Giorgio Chiellini and Adane Girma may come from opposite corners of the world and play in different positions, but when it comes to facial similarities, these two footballers are often the subject of intriguing discussions.
As everyone knows Giorgio Chiellini Ufficiale OMRI is the legendary robust Italian defender who played for the majority of his football at Juventus. He is currently playing for Los Angeles FC in the MLS. Meanwhile, his doppelganger, Ethiopian Girma played as a striker and is already retired despite being one year younger than Chiellini.
Adane Girma is also known as "the black version of Giorgio Chiellini" as the Ethiopian has a slightly dark skin tone than Chiellini. Other than that both shares a similar head, facial structure, and that trademark long nose.
---
4. Yann Sommer and Marwin Hitz
The uncanny resemblance between Yann Sommer and Marwin Hitz goes beyond their striking facial similarities. Both are goalkeepers, they not only share the same position but also hail from the same country, Switzerland. It doesn't stop there – both Sommer and Hitz have had brief stints playing for clubs in Germany, adding another layer of similarity to their parallel careers.
But it's not just their shared professional similarities that have fans buzzing with confusion and curiosity. From their long hairstyles, similar age profile to their identical facial features, Sommer and Hitz could easily be mistaken for long-lost twins. In fact, their resemblance is so much so that fans have turned to search engines, making the query "Is Sommer and Hitz the same?" go trending!
Currently, Yann Sommer plays for Bundesliga giants Bayern Munich. Meanwhile, Marwin Hitz has returned to his own country playing for Basel.
---
3. Luka Modric and Johan Cruyff
It's as if time decided to play a little trick on us, creating a modern-day doppelganger of the iconic Johan Cruyff in the form of Luka Modric. From their facial features to their playing style both of them bear an uncanny resemblance.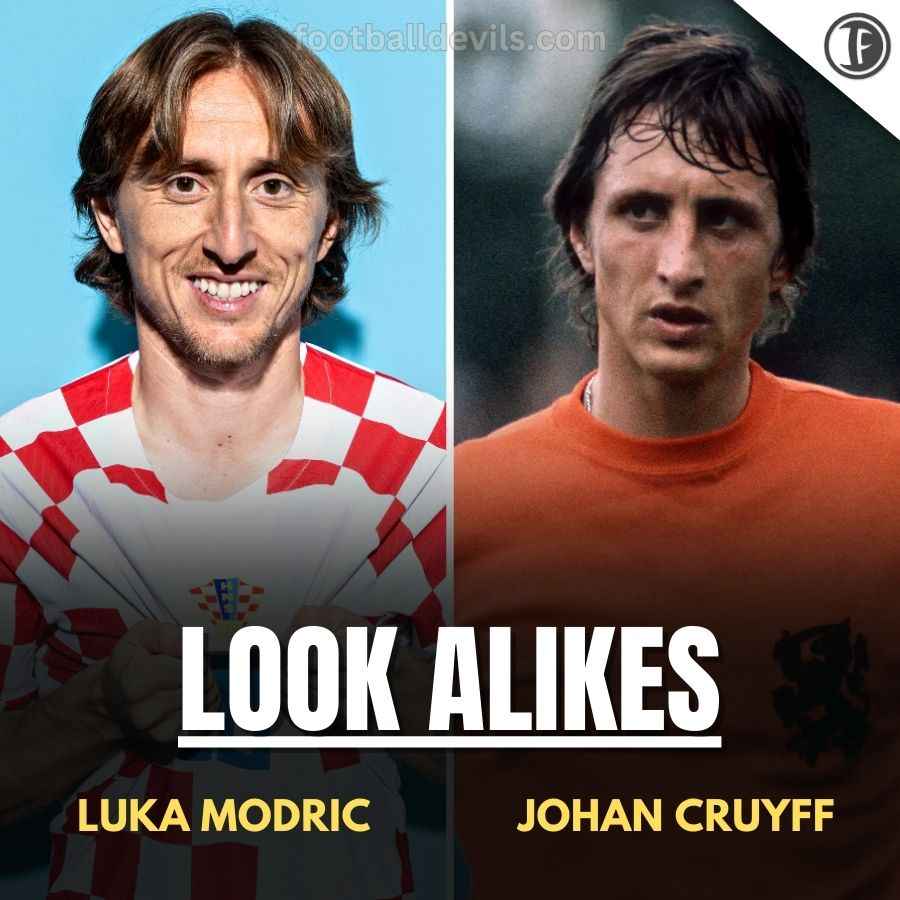 Both Modric and Cruyff share similarities of a good technical player with a vision of a bald eagle. Both of them have won Ballon d'Or as well. Apart from football, both of these football legends bear similar facial similarities and have made the list of famous footballers who look like each other. Modric and Cruyff had similar hairstyles, skin tones, noses, and overall structure.
Currently, Luka Modric plays for Spanish giant Real Madrid, whereas legendary football player and manager Hendrik Johannes Cruijff (Johan Cruyff) passed away at the age of 68 in 2016.
---
2. Peter Crouch and Nacho Monreal
Well, Peter Crouch and Nacho Monreal might have a bit of height and positional difference other than that they both look like lost twin brothers. English Peter Crouch made a name for himself playing for clubs like Tottenham, Liverpool, and Stoke City. Meanwhile, Spanish Ignacio "Nacho" Monreal Eraso is known for his spell at Arsenal.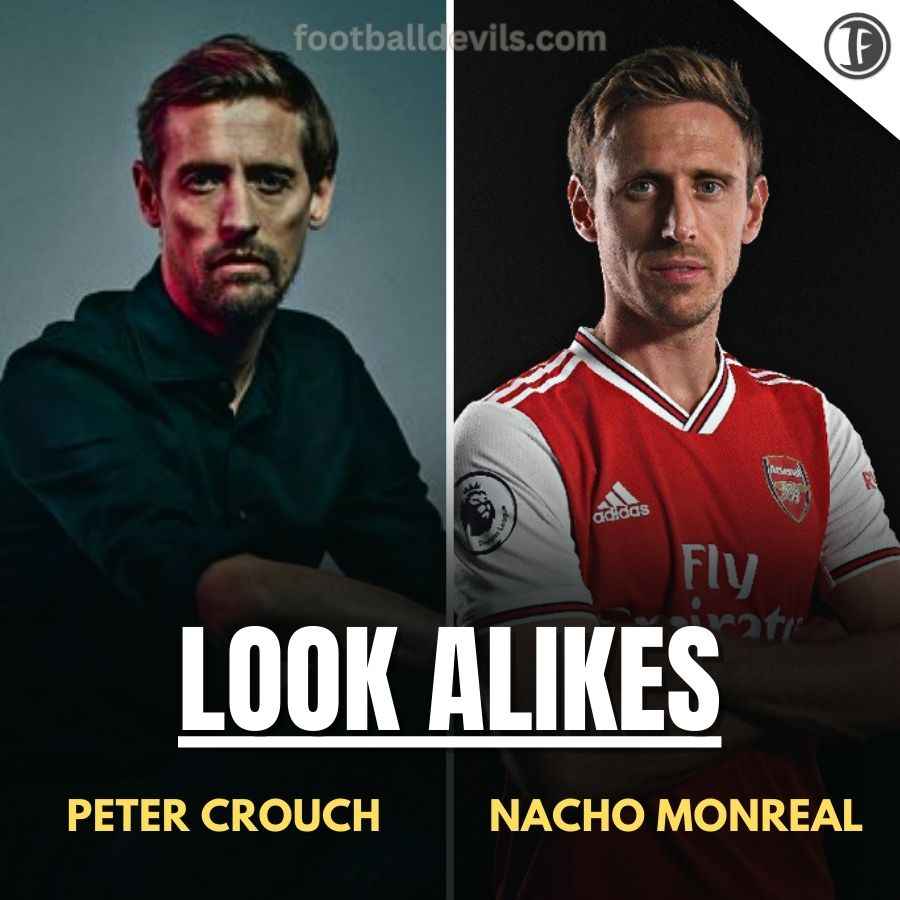 Crouch and Monreal had uncanny hair color, hairstyle, smile, facial structure, facial expression, and even a beard. It's as if they were separated at birth and reunited on the football pitch. Even Peter himself didn't deny the uncanny likeness and tweeted saying "I can't deny this monreal comparison much longer".
Peter was a tall physical powerful goal-scoring striker back in his day and Nacho was agile left-back with a knack for defensive solidity. Both currently both of them have retired from football.
---
1. Ricardo Kaka and Joao Felix
Well as you have guessed at the top of the list of footballers who look like each other it's none other than the pair of Ricardo Kaka and Joao Felix. These two talented players, hailing from different generations, bear a very strong striking resemblance. From their facial features to their playing style, it's as if they were cut from the same footballing mold.
From their hairstyles to their smiles, facial structure, and even their beards, the similarities are so striking that even a photograph of them together would leave fans scratching their heads. Ricardo Kaka and Portuguese Joao Felix are a carbon copy of each other!
Apart from physical appearances their playing style also mirrors each other. Both players are attack-minded and possess the ability to score goals. It's no wonder that Felix has been dubbed the "young version of Kaka" by fans and pundits due to his similar face and playing style to Brazilian Kaka.
Many fans have even sought answers to the question "Is Kaka related to Joao Felix?" online. They are not related whatsoever! However, the truth is that Kaka was one of Felix's biggest idols while he was growing up.
Currently, Ricardo Izecson dos Santos Leite aka is retired from football. However, his duplicate Portuguese Joao Felix who is 18 years younger plays for the English club Chelsea.
---
Conclusion
The world of football is not only about the beautiful game; it also presents us with peculiar and amusing connections between players. Just like this one! It's fascinating how a player from one corner of the world can bear an uncanny likeness to another. It's as if nature decided to play a little game.
So, did you enjoy the list of famous footballers who look like each other? If you have more lists comment down below. And who do you think looks like each other the most?
Read more exciting football news and articles at Football Devils.