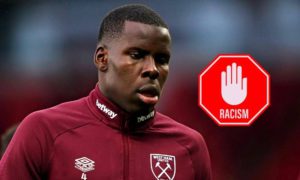 Just a few days after a horrific video was leaked where Zouma was seen kicking his cat, he is getting crucified. He has already lost a deal with Adidas while West ham has fined him a £250,000 fine and he might even face jail time for his action.
And the people on the internet are taking it as a matter of Racism. And they ask If the same was done by a white player, would he face the same consequences?
What did Zouma do?
On Sunday, a video was released where West Ham's defender Kurt Zouma was kicking and slapping his cat. And the cat was desperately trying to run away from the defender as he was chasing the cat.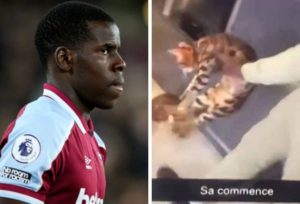 In the background, his brother Yoan was laughing while he filmed the incident. Yoan shared the video on his Snapchat but the fans did not take it seriously.
Zouma apologized
Zouma could not hold himself back after the netizens hugely criticized him. And he publicly apologized for his action. He said,
"I want to apologize for my actions. There are no excuses for my behaviour, which I sincerely regret."
He added, "I also want to say how deeply sorry I am to anyone who was upset by the video. I would like to assure everyone that our two cats are perfectly fine and healthy."
Read also: Greenwood beat his girlfriend 
Punishment for Zouma
Though the incident looked simple,  the action was not forgivable and Zouma had to face severe punishment.
The English club, West Ham has charged him the fine of 2 weeks wage which equals 250,000 pounds. As per Westham, they fined him the maximum possible amount and the money will be donated to animal charities.
Adidas was also stripped off from his sponsorship deals.
His other sponsor Vitality also suspended the sponsorship with the Frenchman.
And his cats are taken by the RSPCA for safety.
More than 150,0000 fans already signed a petition that he must face charges.
Is it because of Racism?
Yes, it is absolutely a dreadful action that he committed, but, people are thinking that the punishment he is facing is more than he deserves. It is because he is BLACK.
Previously several incidents have happened which were even more horrible, but they got out easily.
Do you remember when Eden Hazard kicked a 17-year-old ball boy brutally? At that time, he faced just 3 game ban. People also referenced when some British troops shared a snap where he clearly said they killed 5 elephants in Kenya.
Michail Antonio's response to Kurt Zouma beating the cat
Another West Ham's forward Michail Antonio has given a classic response when a reporter asked about him.
He started with the statement, "Do you think what he has done is worse than racism?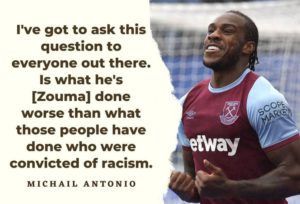 Hypocrisy Level of Adidas
That's a perfect response by him. A prime example of that is when Luis Suarez racially abused Evra in 2011. At that time, Adidas just warned him.
And now they have cut the sponsor with the Frenchman who has beaten his cat.
At last, as Antonio said, Zouma is wrong to beat the cat, but the punishment he is facing is too brutal. It justifies the fans questioning, "Do you think what he has done is worse than racism?"
Explore more exciting news at Football Devils.