French striker Kylian Mbappe has equaled one of Zidane's all-time records after scoring a brace against Denmark in the group stage of the FIFA World Cup. And the more interesting thing is the forward is just 23 years old and has at least 10 years to play.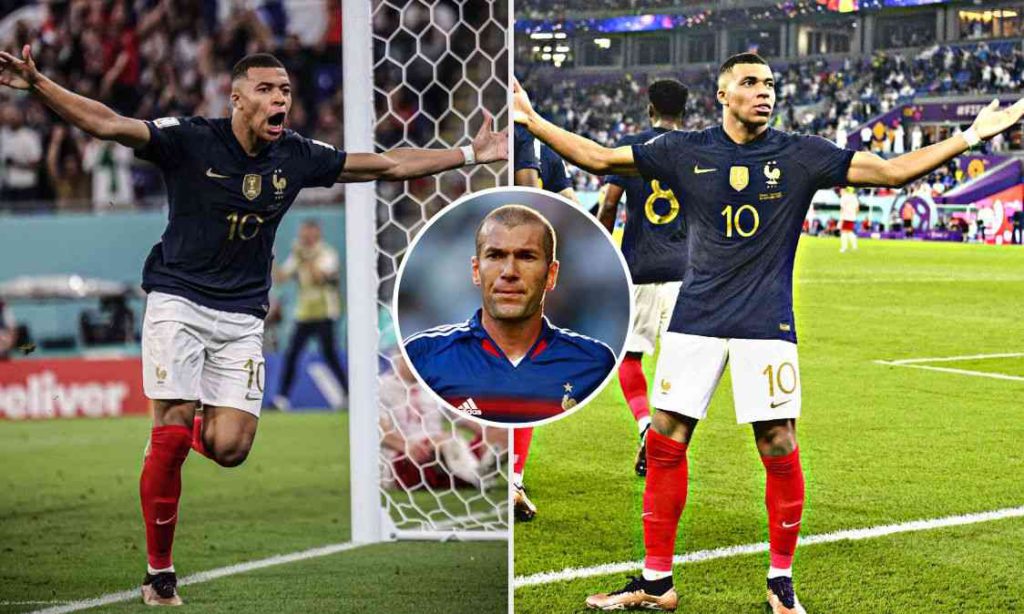 Brace against Denmark
The PSG star scored two goals in the second half against Eriksen and Denmark. Mbappe's first goal came in the 61st minute after he played a fantastic one-two with Theo Hernandez in the opponent's post. Kylian took an easy shot to get past Denmark's Schmeichel and take a lead.
However, the happiness was not there for a long time as 7 minutes later, Danish defender Andreas Christensen returned a goal for Denmark.
But in the 86th minute, the PSG star Kylian doubled the score for France as he bundled the ball from Antonie Griezman's cross.
With this victory, his team France is standing comfortably at the top of Group D.
Which record did Mbappe break of Zidane?
Undoubtedly, Zinedine Zidane is one of the greatest footballers of all time or let's say the greatest midfielder. And he played a vital role in 1998 to lead the team to the World Cup. Besides, he also had a successful career with Real Madrid, both as a player and manager. Don't forget his consecutive 3 UCL campaigns with the Whites between 2016 and 2018.
At the club level, he scored 95 goals in 506 games, considerably amazing for the role he plays and how amazingly he fulfills it.
Similarly, he scored 31 goals in the international games for the French senior team in 108 games.
However, French striker, Kylian Mbappe has also achieved the same feat as the special one. Both Mbappe and Zidane have scored 31 goals for their countries.
What's more amazing is that Mbappe has just played 60 games for France and he has not even celebrated his 24-year birthday. A lot of years left for the young player and with the speed, he is going on, no doubt, Kylian will be the highest French goalscorer in the near future.
The top in the list is Olivier Giroud who just leveled with Thiery Henry with 51 goals. Similarly, Antoine Griezmann and Michel Platini stand in the third and fourth respectively.
And Mbappe and Zidane are jointly standing in the 7th position of the highest goalscorer list in France.
Read more exciting news at Football Devils.