FootballDevils.com represents the Top 5 Reasons Barcelona wants to sell Dembele or keep him. On one hand, he is costing them too much and on the other hand, he is a great talent, if utilized properly, he can lead them to glory.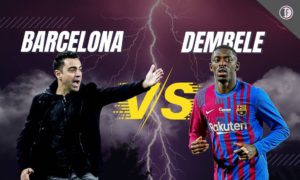 On 20th January 2021, Barcelona's manager Xavi warned Dembele to sign a contract or leave the club immediately. But the question is WHY?
Blaugrana has tried multiple times to renew the contract with the French winger. But Dembele has not said his final words about whether he will continue with the team or leave the contract. And Barcelona found it better to sell him this transfer window rather than losing him for free in the next transfer window.
According to Fabrizio Romano, Barcelona director Alemany said that,
"It's clear that Dembélé does NOT want to continue with Barcelona." He doesn't want to be part of our project." He added, "We told Dembélé he has to leave immediately. We expect Ousmane to be sold before 31st January."
So, it is a high chance that Dembele and his club Barcelona might part ways. Before heading directly to the reasons why Barcelona should sell Dembele, let's have a thorough look at what is the contract situation between the two parties
So, When will Dembele's contract end at Barcelona?
Dembele's contract with the Catalan club will end on 30th June 2022. Previously, on 25th August 2017. Dembele signed a 5-year contract worth €105 million-plus a €40 million add-ons.
Before joining Barcelona, Dembele was in Borussia Dortmund. He had a breakthrough career in the 2016-17 season that forced Barcelona to sign him the following year.
He was crucial in leading the German giants Borussia Dortmund to the DFB Pokal, a major trophy after 5 years. In the 2-1 victory against Eintracht Frankfurt, he scored their first goal.
Barcelona also needed a winger as their forward Neymar had left Barca for PSG. And Dembele was the best deal they could have in that context. Now let's go to the top 5 reasons Barcelona wants to sell Dembele in this transfer window.
Reasons Barcelona wants to sell Dembele
1. End of Contract
As mentioned above, his contract will expire next summer transfer window next June. And if the contract expires, then Barcelona has to let him go for free. So, they should sell the 24-year winger in this winter transfer window.
The Winter Transfer window will expire on 31st January 2022. It is the main reason Barcelona wants to sell Dembele in this transfer window in whatever they can.
2. 14 Injury in 5 years
Dembele has speed, accuracy, and every factor a winger needs. Moreover, he is young, just 24 years old. So it is not logical to just let such a talented player go.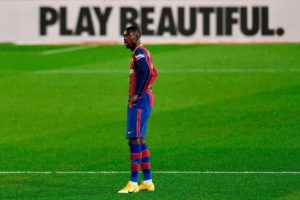 But the problem is his Injury. Dembele has been failing to perform for Barcelona as they expected. He missed most of his games at Barcelona because of Injury. As per transfermarkt, he had 14 injuries in his 5 years at Barcelona. In total, he missed 102 games due to the Injury.
And he was also out between December of 2021 to January of 2022 because of Corna Virus. So, of course, it is better to sell the player that costs more than he provides.
3. Financial Reasons  (Debt)
Before going to Dembele's salary and contracts, let's see how the 2014/15 Champions League winner Barca is financially under the burden.
Think of a scenario, suppose you are a club owner, and you have Lionel Messi, also loyal to the club. Would you let him go for any reason? No way. Every club would want him even he is past his prime time. And there is Barcelona, who let Lionel Messi go for free to PSG in August of 2021. So, why did you think that happened.
Although Blaugrana blamed it as Laliga's fault, they set the rules limiting the player's wages. But in my opinion, Barcelona is to be blamed for failing to comply with the Laliga rules.
The rule has been there for a long and the 2018/19 Spanish Champion must have played by the rule. So, how is this related to Dembele?
According to the reports, Barcelona has been in more than 1 billion pounds debt. And they have aggressively sold top players to get out of debt. Recently they sold Coutinho to Aston Villa on loan, and before that, they sold their most valuable player, Lionel Messi, to reduce the financial problems.
And there is Dembele, who is the fifth-highest salaried Barcelona player with an annual wage of £ 10,900,000. And he mostly injured. So, Barcelona has no better option to offload the player than keep him, despite his age.
4. Huge wage demand
Despite being one of the top paid players in his club, Dembele asked to renew his contract. He demanded a mouth-watering wage of £700,000 per week.
But Xavi did not take it well as becoming more of a liability than an asset. No way, Barcelona would want to keep Injury prone players and pay them a huge amount.
5. Xavi
The last but not the least reason the Catalan club would want to offload Dembele from the team is XAVI.
Xavi is a part of Barcelona's legendary period that won 2 trebles in 2009 and 2015. During his time with Messi and Iniesta, the Tiki-Taka was at its peak, and Xavi was the main conductor of Taka.
And recently, Barcelona announced that they would be signing Xavi as their coach. Being the coach, he has already played his move to sign players that would fit in the system.
And none other than Dani Alves is their first signing by Xavi. Xavi must plan to build a team that could lead the team again to their glory, and Dembele may not be part of Xavi's plan.
Dembele's Stats, Facts, and Records at Barcelona
1. Since the 2017 season with Barcelona, Dembele has scored 18 goals in 87 appearances.
2. Dembele made his debut for Barcelona on September 9 against Espanyol replacing Gerrard Deulofeu.
3. In his five years span at Barcelona, he was injured 14 times along with one absence due to Corna Virus.
4. He scored his first goal against Chelsea in the Champions League second leg.
5. At the time of singing, Dembele was just 20 years old and the second most expensive player after Neymar.
Read more football-related exciting news, rumors, at Football Devils.