Once regreded as one of the best English Premier League players, Eden Hazard is not having a happy life since his move to Spanish giant Real Madrid. The player joined Real Madrid for €115 million but has not performed as expected.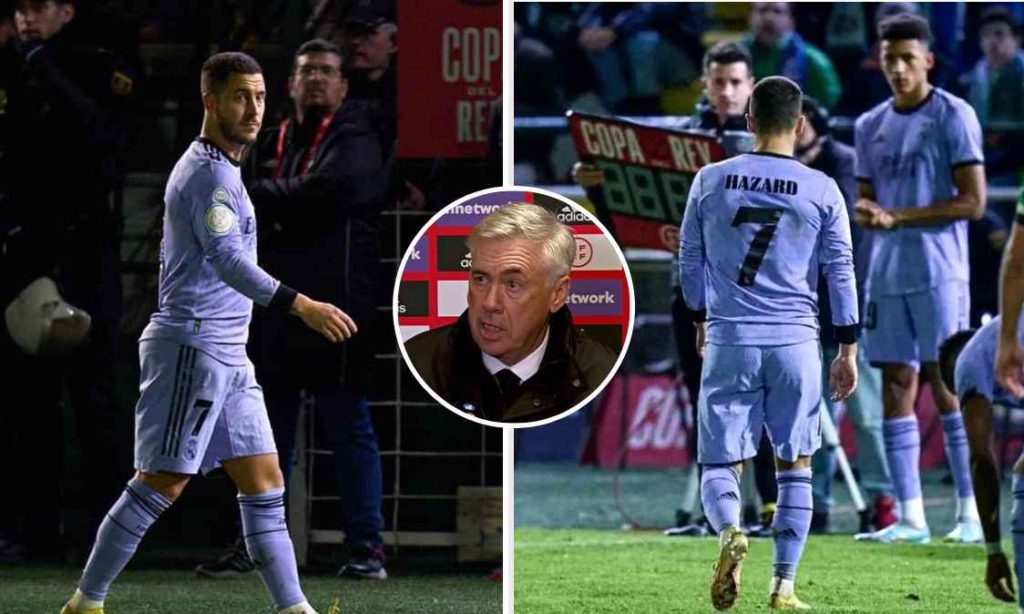 The 31- year old winger's lowest moment came in a narrow Copa del Rey win against Cacereno, where he played started and played 67 minutes.
Manager Ancelotti gave Eden Hazard a chance to prove himself in a Copa del Rey match, but he failed to make an impression.
Hazard's performance at the Estadio Principe Felipe was underwhelming, as he attempted no dribbles, made no shots and committed no fouls. He only managed 24 touches and lost the ball five times.
Ancelotti on Hazard's performance
When asked about Eden Hazard's performance against Cacereno Real Madrid, manager Carlo Ancelotti said:
"Hazard? It's difficult to evaluate the game because it was difficult to play tonight. Small players like Hazard and Rodrygo faced more difficulties."
Even though Carlo didn't gave much information about Hazard, it is clear that Ancelotti is very unhappy with Eden Hazard.
Diario AS reported that Ancelotti is very worried about Eden Hazard. He thought he could count on Hazard on this tight game run- but the Belgian disappoints match after match.
Even Cacereno's player Carmelo Mereciano had his say about Hazard after the match. He said:
"Hazard? It was like he didn't care about the game. He didn't want to take the ball, he didn't run. He was totally unnoticed."
Fans think Hazard's career is OVER
Many Real Madrid and football fans think that Belgian's career has already come to an end at just 31- years old.
One fan said: Hazard's career is FINISHED. He need to retire now.
Similarly, another added: Eden Hazard's career ended the moment he walked out of Chelsea.
A Chelsea fan said: It's sad and hard to say but Hazard is surely not coming back to his best.
What happened to Eden Hazard
Eden Hazard suffered an ankle injury against PSG in the Champions League group stage on 26 November 2019. He went on to miss 16 Madrid matches and has not been the same ever since.
He has been having injury problems ever since. After his injuries, Hazard also was seen overweight on several occasions.
Similarly, he also retired from international football after an embarrassing exit from World Cup 2022 in Qatar.
Read more news at Football Devils.