In the world, where Zlatan and Cristiano Ronaldo are smashing the goals and opponents at the age of 40 and 37 respectively. There are some players who stopped playing football at an early age.
Football Devils presents you the list of [2023] top 5 famous footballers who retired very early and missed the chance to achieve even more.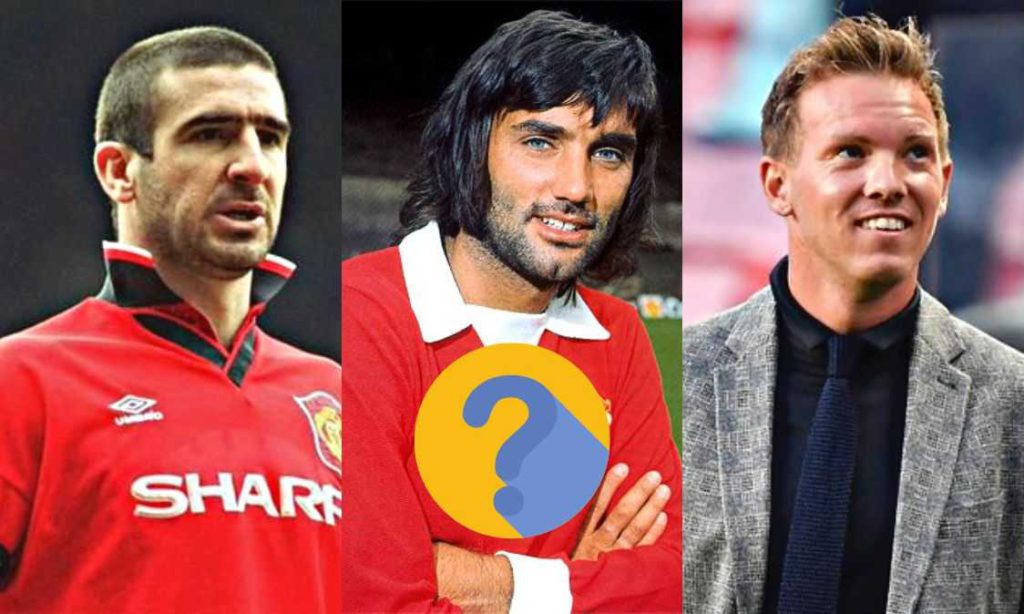 So, here is the list of 5 footballers who retired early
5. Eric Cantona – 30
Age at the time of Retirement – 30
Last club he played – Manchester United
What did he do after retirement? – Acting
Once voted as the greatest manchester united player in 2003, and inducted into the English Football Hall of Fame, Eric Cantona is one of the greatest footballers. Throughout his career, he played for several clubs including Leeds, and Bordeaux, but, he is mostly known for his time at Manchester United winning 4 Premier League titles between 1992 and 1997.
But, the Frenchman was also famous for an incident involving kicking a Crystal Palace fan after the player was verbally abused. He was handed a two-week jail term, which was later reduced to 150 hours of community service on appeal. Cantona was also banned from football for nine months but eventually returned to United.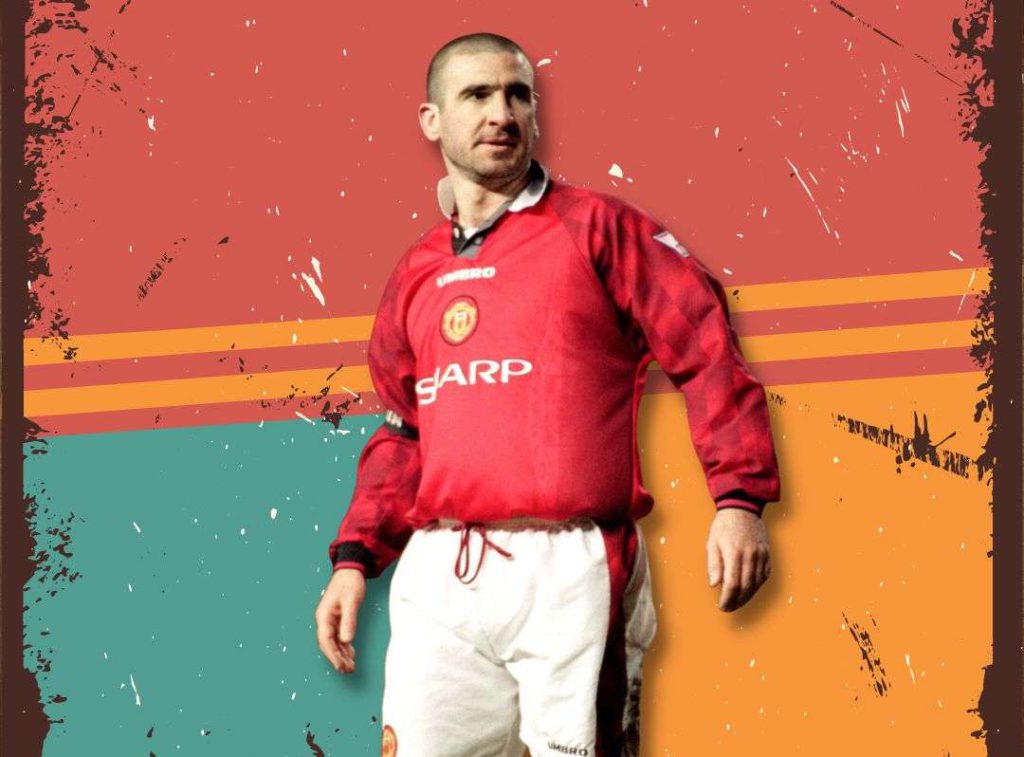 Eventually, after that, King Eric decided to retire from football at the age of just 30, the 1996/97 season with Manchester United was his last one.
Why did Eric Cantona retire?
Even though Cantona did not give any specific reasons for his retirement, the football ban may be one of many reasons behind it. However, Eric himself said he was bord of football and had no passion for the game in a shocking interview. On JOE's Unfiltered podcast he said:
I didn't feel the passion for the game. To play at the highest level, you have to be very careful about what you eat, what you drink, what time you go to bed, what you think. You have to be concentrated on the game. Secondly, to do that, you need the passion. but when you lose that, you can't improve yourself anymore and I loved that feeling that I was improving while playing.
After his football career, unlike other footballers, he started his acting career and became active in French cinemas. He appeared in the French comedy movie named Happiness in the Field. Later, he also directed a short film and played music videos as well.
Also Read: Footballers who collapsed on the pitch
---
4. Just Fontaine – 28
Age at the time of Retirement – 28
Last club he played – Reims
What did he do after retirement? – Football Coach
In a FIFA award ceremony in 2004, the 3 time World Cup winner Pele named Just Fontaine one of the 125 Greatest Living Footballers. French footballer Just Louis Fontaine even won the FIFA World Cup, Golden Boot, and scored 13 goals in a single World Cup edition -the highest till this day. Talking about the club, he had a great career with the French club Reims, where he scored 122 goals in 131 matches.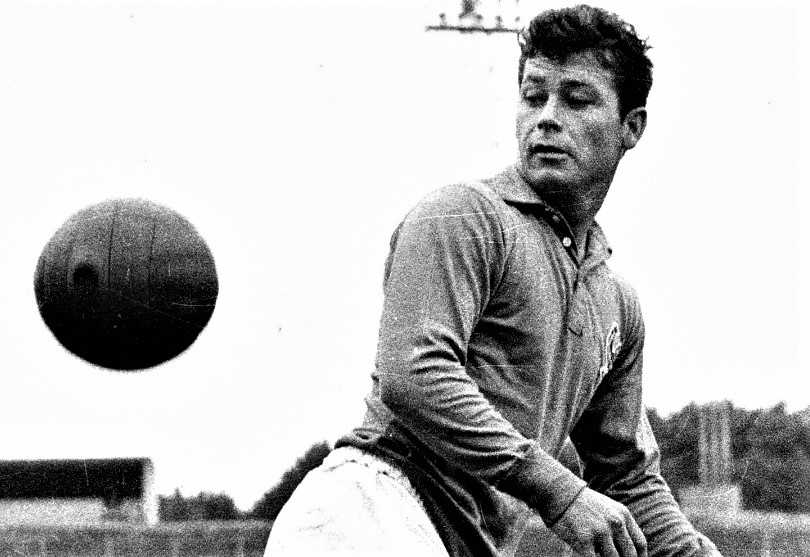 Why did Just Fontaine retire?
Taking all of this into consideration, Just Fontaine was a very very good payer. But unfortunately, he was a victim of serious injuries. Fontaine broke his leg twice in 1960 which was the beginning of his downfall. He tried his best to recover from it and made several comebacks but his leg gave him up eventually.
Fontaine played his last match in July 1962, being forced to retire early (28 years and 11 months old) because of a recurring injury.
Life of Just Fontaine after Football
In 1967, Just coached the France national team for a brief period before being replaced after just two defeat-filled friendlies. In the 1980s African Cup of Nations, while serving as Morocco's head coach, he guided the Atlas Lions to third place while guiding the development of players like Badou Zaki, Mohammed Timoumi, and Aziz Bouderbala. Similarly, in the 1982 World Cup qualifying process, Morocco advanced to the final round but lost to Cameroon.
Currently legendary French footballer and manager Just Fontaine is retired and is 89 years old as of 2023. The footballing world will never forget the single Word Cup top scorer.
---
3. George Best – 25 (First Time)
Age at the time of Retirement – 25
Last club he played – Tobermore United
What did he do after retirement? – Football Coach
Undoubtedly, one of the finest footballers in the world, George Best had many ups and downs in his career. Known for his pace, goalscoring, balance, skill, and playboy hairstyle, Best really owned his position. Scoring 137 goals in 361 appearances for Manchester United, he earned his statue along with Bobby Charlton and Denis Law outside of Old Trafford.
Additionally, Best won the Ballon d'Or in 1968 after polling higher than Franz Beckenbauer, Bobby Charlton, and Dragan Daji. This meant that, at the age of just 22, he had won the three most prestigious club football awards (the league title, European Cup, and European Player of the Year award).
Popular football manager and player Harry Redknapp once said:
George was the best footballer I've ever seen. He was just a special talent. I've never seen anyone with the ability to beat people, to dribble, an amazing footballer. George Best was just the best. The greatest. He knew players went out onto the pitch to hurt him. They couldn't get near him.
Why did George Best retire?
Best was the club's leading scorer for the sixth and final time in a row. After that, Best proclaimed his retirement from football in the 1971/72 season just aged 25. He retired because he was frustrated with Man United's decline. But it was also his off-the-pitch behavior of hanging with famous beauty queens, partying and of course the alcohol.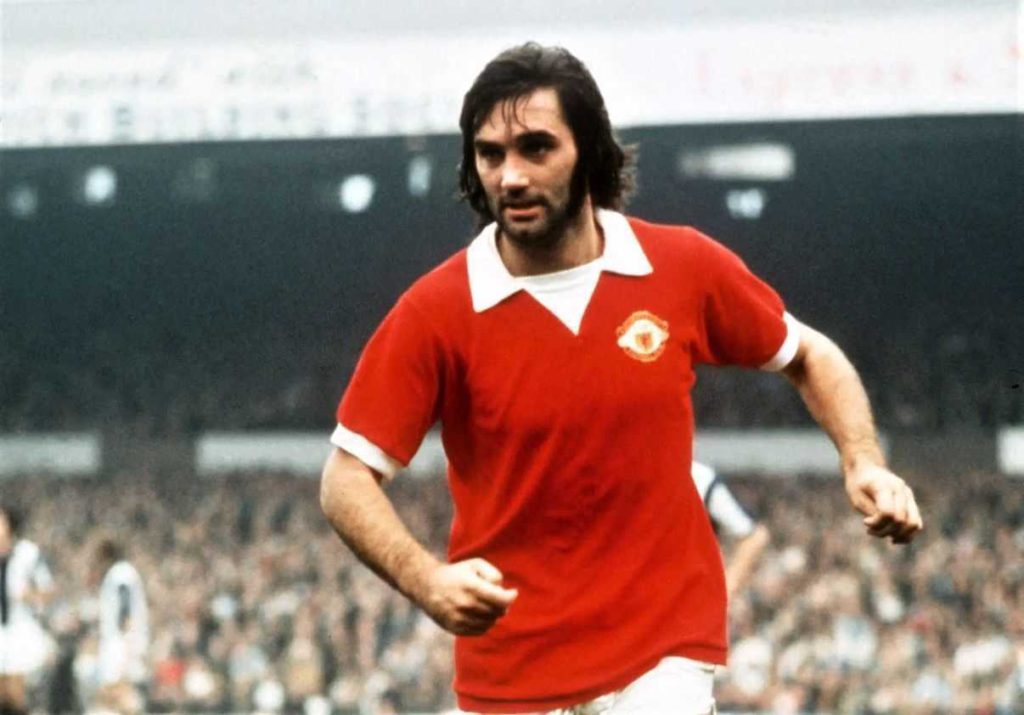 But showed up for preseason practice and kept playing still after the retirement. Though he later returned to football, he never found the best form as he did before. He left Man United in 1974 and went on to play for the likes of Stockport County, Cork Celtic, Fulham and many other clubs.
George was never the same because of Alcohol and Women. He finally ended all of his football career in 1983 at the age of 37.
Life of George Best after Football
After football, George Best was fully addicted to alcohol. Best was given a three-month prison term in 1984 for driving while intoxicated, assaulting a police officer, and evading bail. He also appeared on serval TV programs drunk and caused a lot of controversies.
On 20th November 2005 from a hospital bed dying George requested the British tabloid News of the World to publish a picture of him with a message.
Don't die like me
Treatment was halted early on November 25, 2005, and he passed away later that day at the age of 59 from multiple organ failure and a lung infection. On November the 25th the legend and controversies of George Best disappeared like him.
---
2. Adrian Doherty – 24
Age at the time of Retirement – 24
Last club he played – Manchester United
What did he do after retirement? – Music Band
This is probably one of the saddest football stories that have happened to this date. A single reason that ended a very promising career of Adrian Doherty was a horror injury. Considered an exceptional young talent, Adrian had every quality there is to be a sensational winger.
Adrian was full of skills, quick, had a low center of gravity, and change direction fast. He was also a huge music fan, idolizing Bob Dylan he bought an acoustic guitar and started playing music after football. In the spring of 1990, following the injury cirses, Doherty traveled with the first-team squad of Man United at the age of just 16, even though he didn't appear on the bench.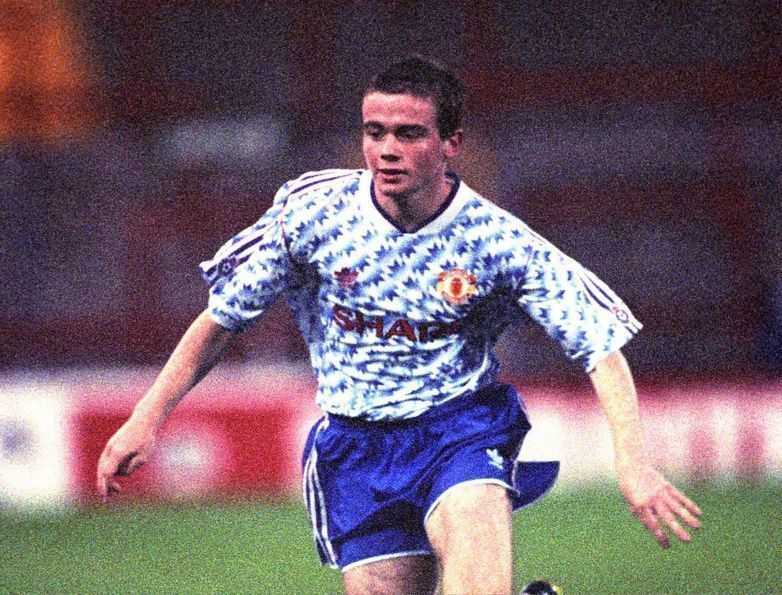 Even more, he was in the youth academy of Manchester United and everything was going well for the Northern Irish footballer.
Why did Adrian Doherty retire?
Unfortunately, while participating in a reserve game against Carlisle United, Adrian Doherty sustained a cruciate ligament injury. The injury would finish his Manchester United career, despite his numerous comebacks over the course of the rest of the year, including a youth tournament in Zurich and a season-ending friendly in Trinidad.
Adrian tried playing football with League of Ireland side Derry City, but his knee would fail him. His anterior ligament cruciate was damaged and his football career ended there. At the time when he completely left football, he was just 24 years of age.
The end of sweet Adrian Doherty
After Doherty's football life, he jumped into the non-footballing world. As he was interested in music, Doherty formed a band named The Mad Hatters. Adrian spent a month in early 1992 living in New York's East Village, performing under the name McHillbilly, in the hope of landing a record deal. He even worked as a chocolate factory worker, furniture worker, and hotel porter for a living.
Sadly, on the 9th of June 2000, at the age of just 26 just before his 27th birthday, Adrian Doherty passed away after being in a coma for a month. He was found unconscious in a canal on 7th May of 2000. He had no narcotics in his system, and Dutch authorities determined that his death was an accident.
---
1. Julian Nagelsmann – 21
Age at the time of Retirement – 21
Last club he played – FC Augsburg
What did he do after retirement? – Football Coach
When someone hears the game of Julian Nagelsmann the only thing that comes into mind is a brilliant young German football manager who is bound to have success. But many many don't know that Nagelsmann was once a good footballer as well, he was a defender. He only footballer on the list who is still active in the football world, long after his retirement too.
Still, in his early 30s, Nagelsmann is currently managing the biggest team in Germany, Bayern Munich. So the footballing world will defiantly hear the name Nagelsmann for about another solid 2 decades.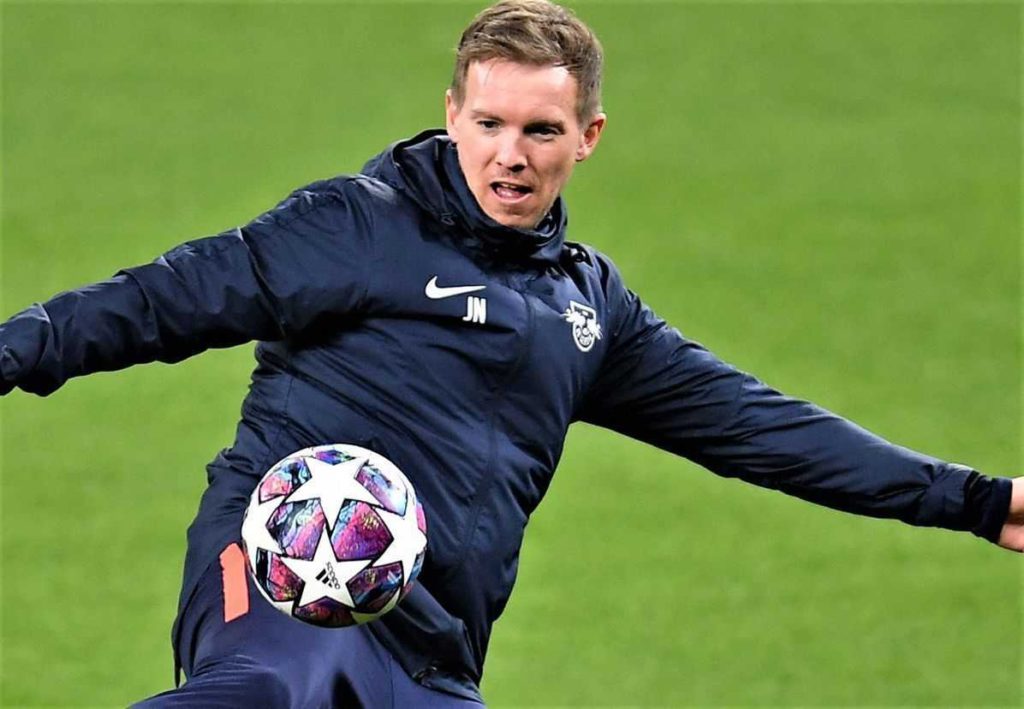 Why did Julian Nagelsmann retire?
Born in 1987, Julian started playing professional football at the age of just 19 when he joined 1860 Munich II. The next season, he was transferred to FC Augsburg. Despite being of the finest players and youth captain, the funny part is he made 0 appearances for both clubs. The one and main reason Julian stopped playing football was because of recurring injuries. In the 2007/08 season, he injured his knee and meniscus which forced him to leave football at the early age of just 21.
In an interview about his playing days Julian said:
At first, I didn't want anything more to do with football, It was very sad for me that I had to end my career so young.
After his playing was over, Julian wasn't done with football, he was determined to be a football coach. Nagelsmann was just 28 when he was appointed as head coach of Hoffenheim in February 2016. As of now, he is the head coach of the German club, Bayern Munich replacing Hansi Flick in 2021. And he is one of the if not the most successful young manager in the world. Nagelsmann have already managed 1899 Hoffenheim, RB Leipzig, Bayern Munich and won Bundesliga and DFL-Supercup.
---
Read more exciting news at Football Devils.