Liverpool's new signing Darwin Nunez completed an incredible 4-goal haul as the Reds hammered RB Leipzig in the preseason friendly ahead of the 2022-23 season. And the football world could not resist praising Liverpool's forward as his teammates and coaches reacted to it.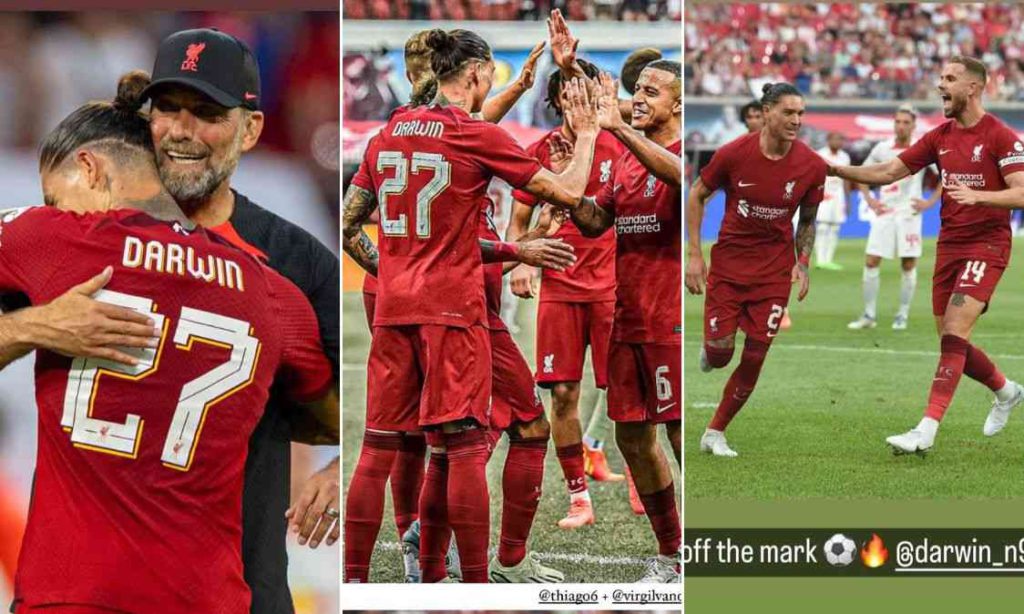 Football World reacts to Nunez's 4 haul
After the departure of Sadio Mane to Bayern Munich, Liverpool signed a young player, Darwin Nunez from Benfica. Liverpool fans were expecting a heavy performance from the player.
However, the Uruguayan forward has been heavily criticized for his lack of goalscoring and poor lack of form in the first 2 games of the friendlies. But, he has found an incredible way to silence the critics and his haters. Nunez, who came in the 46 minutes replacing Firmino in the front bagged a hattrick in just 25 minutes of his arrival before he added another one in the 90 minutes.
The social media got flooded with the post of Nunez's in their victory against Leipzig. Few of his admirers were his own teammates while the coach himself also reacted to Darwin's 4 goals.
Klopp loves Nunez's performance
You know the player is legit when Jurgen Klopp, the man himself loves your performance. Moreover, Jurgen is the man who had faith in you despite poor performances earlier.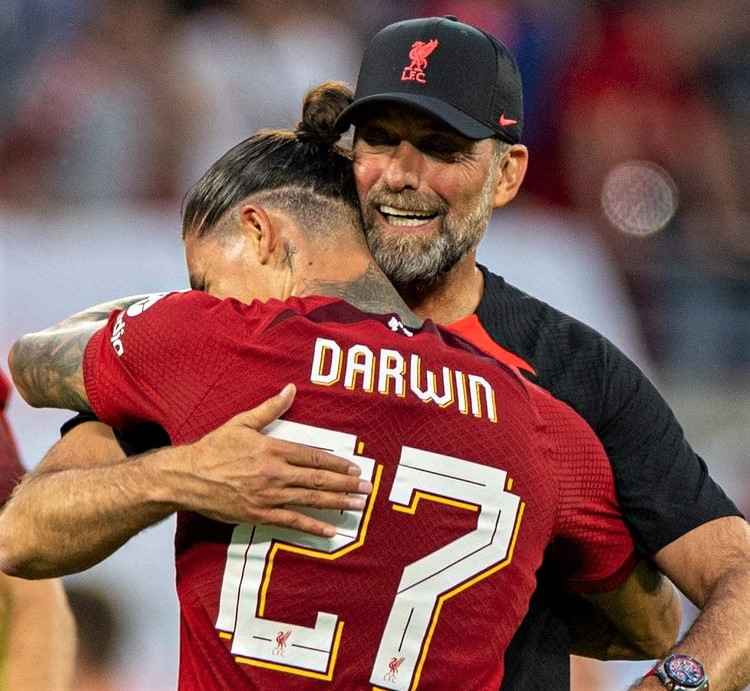 Liverpool's boss came out in public to talk about Nunez's incredible performance and told,
""The perfect night for him." He added, "I'm not sure if it's a clause in his new contract to be generous as hell!"
Moreover, Klopp believes that it is just the beginning and Nunez has so much to give to the club. He said,
"He opened the box of Pandora!""
No doubt, that Klopp believes the man he signed for £64 million. Obviously, you must have something to replace players like Sadio Mane.
Van Dijk, Milner and Henderson reaction to Darwin's first-ever hattrick for Liverpool.
It seems Klopp is not the only Liverpool man who enjoyed their victory against RB Leipzig. His teammates also went on to social media to praise the new signing.
James Milner posted a photo of him and Nunez celebrating the goal while Henderson too did the same with an additional caption. He wrote,
"He's off the mark @darwin_n9."
Similarly, the Dutch defender, Virgil Van Dijk too posted of himself celebrating the goal with the frontman.
Darwin admires Van Dijk and Henderson
And Darwin also has nothing but respect for the players of his club. Soon after they posted and shared their opinions regarding his performances, Darwin went on to his Instagram story and shared all of their love and thanked them.
And he himself went on to Twitter to respond to the critics. Though he did not say it directly, he posted his photo with an emoji "SHUSH", probably telling his haters to be silent. And before the emoji, he wrote "Resiliencia" meaning, back in shape.
Read more exciting news at Football Devils.