Argentine forward Lionel Messi has been threatened by 3 times World Champion Canelo Alvarez. The alarming warning came after fans spotted Messi kicking Messi's jersey in the dressing room.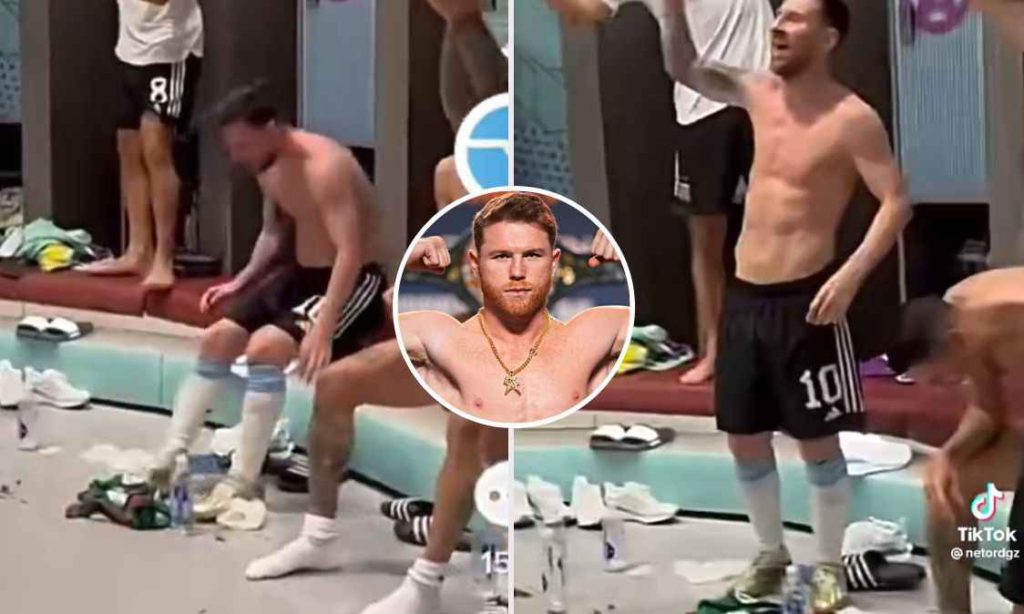 What actually happened with Lionel Messi?
Lionel Messi and Argentina had a final chance against Mexico to keep their World Cup dreams alive in which a win was a must – no loss or not even a draw. Moreover, this World Cup is so special for Messi as it is the final chance for him to grab that glorious shining trophy.
And Leo was on the spot in such a crucial match to rescue Argentina from the early exit otherwise would have been the most catastrophic campaign in the country's history. A goal and an assist from Messi resulted in a 2-0 against Mexico with a match left in hand which will be against Lewandowski's Poland.
The whole Argentina team was celebrating wildly in their dressing room which was later uploaded to social media. That's when fans spotted what may be one of the ridiculous things done by the PSG forward.
In the video, the Argentine forward was seen moving the Mexican national team jersey with his feet in an unintentional way. However, several netizens have taken the action as disrespect.
Canelo threatened Messi over the Jersey issue
Along with several Mexican fans, Canelo Alvarez, one of the best boxers came out on social media as he threatened Leo.
Alvarez tweeted saying,
"Saw Messi cleaning the floor with our jersey and flag. He should ask God that I don't find him."
Additionally, the Super middleweight champ also demanded respect for his nation in the same way he respect Messi's Argentina as he stated,
"Just like I respect Argentina, he has to respect Mexico! I'm not talking about the country as a whole, just about the bulls**t that Messi did."
However, some fans think that Canelo had gone too far against Messi as one of them posted,
Read more exciting news at Football Devils.