The 22-year-old Chelsea defender Reece James displayed an amazing performance that earned him the respect of his rivals, none other than Benzema and Vinicius Jr. James dominated the right side for the Blues against Real Madrid in the second leg of the UEFA Champions League quarter-final.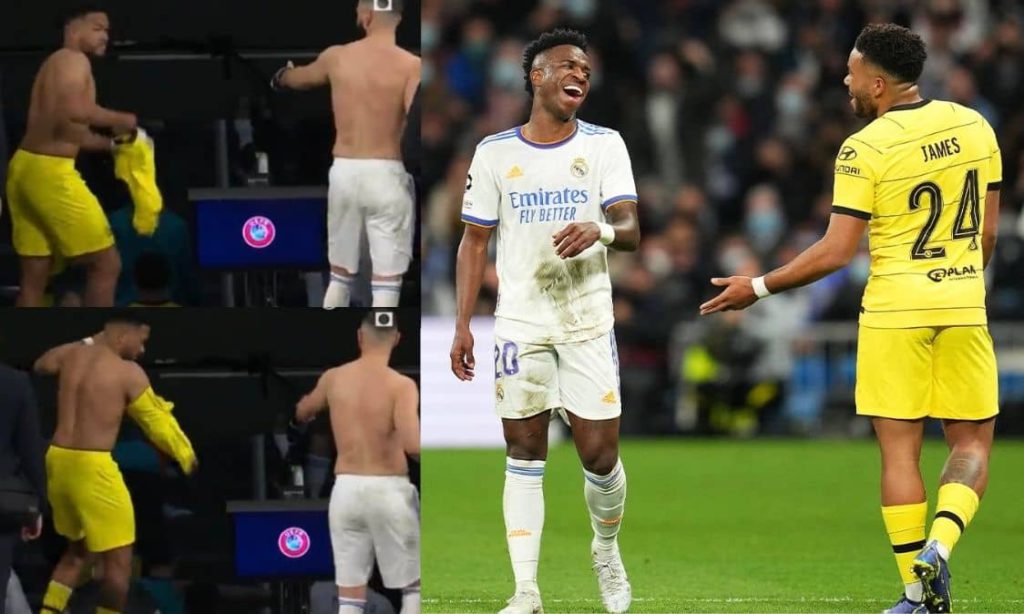 What Vinicius and Benzema said?
In a 5 goal Thriller between the two elite teams, Real Madrid and Chelsea, the Blues' defender Reece James were all over the right side of the pitch. Despite getting booked in the 10 minutes, the defender's stat is outstanding.
What did Benzema do?
The performance was so good that even Real Madrid's star player Benzema could not ignore it. And as Class Recognizes Class, Benzema eventually showed his respect to the defender.
After the final whistle, as players of both teams walked down the tunnel, the K9 could not resist asking to swap the Jersey, which Reece accepted. The footage of the event was recorded on the camera and it is going viral as we speak.
Real's forward Karim Benzema was the one who prevented the English club from making one of the best football comebacks in UCL history. Benz scored an incredible header in the 96th minute, which resulted in the win for their side.
Vinicius Jr Praises Reece J
If there is one player that became the most victim of Reece James' show, then Vinicius Jr. comes at the top of the list. And the defender absolutely OWNED the left-winger, mainly in the FIRST HALF. And the stats are absolutely INSANE.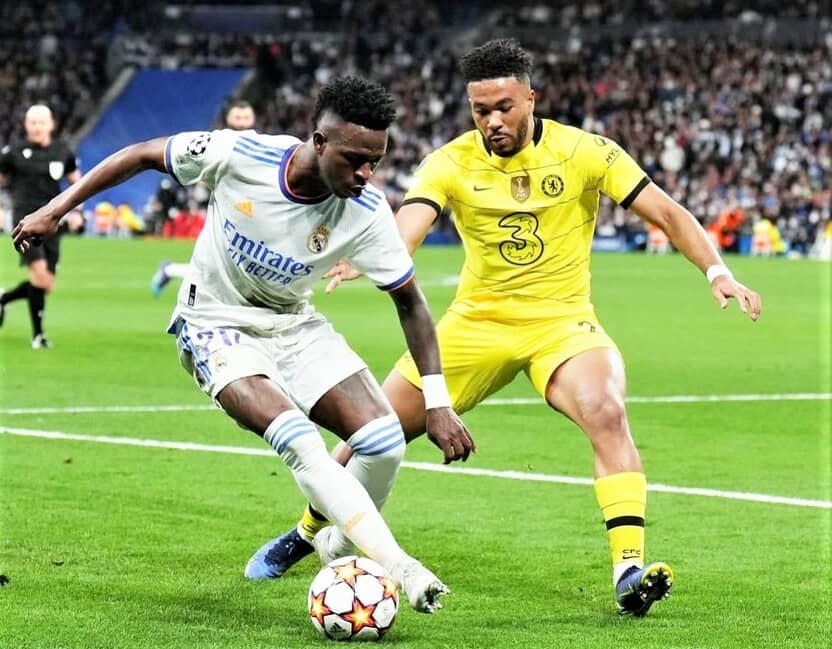 In the first half, Chelsea's number 24 won 7 duels out of 8 which he contested. There was barely any moment, Vini could get past successfully. The Brazillian left-back clearly felt the presence of James, which he acknowledged. And the rivals exchanged some words on Instagram.
After the games, the English defender posted a message to his fans thanking them for their support. He posted,
"A game full of emotions. We gave everything yesterday. Sometimes in life everything just isn't enough. Thank you for all the support!"
And Vini commented on the post as he wished Good Luck to the defender. He said,
"great game bro. good luck"
What an act of Admiration towards the players, as said, Class Recognized Class.
Reece James Stats vs Real Madrid
Check out the stats of Reece James vs Real in the Quarterfinal of the UCL.
Half time Performance
Read more exciting news at Football Devils.