Thierry Henry has compared Liverpool's £85 million signing, Darwin Nunez with former legendary striker young Luis Suarez who was more dangerous and clinical in the finish but made some mistakes.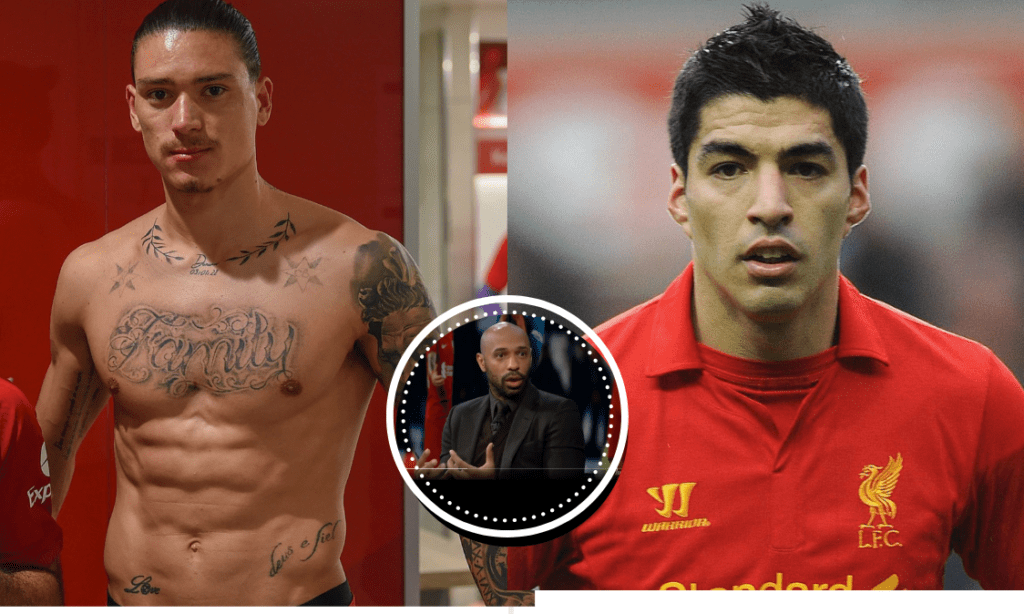 Darwin is like young Suarez
This season, Darwin Nunez has received a lot of criticism for falling short of Liverpool fans' expectations. In all competitions this season, he has just 7 goals and 2 assists, which is significantly fewer than Haaland's goal of 22 goals and 3 assists.
Nevertheless, Thierry Henry could not stop praising Darwin following Nunez's outstanding effort against the unbeaten Napoli. Darwin Nunez, a striker for Liverpool, scored and assisted in the UCL game against the Italian team to help his team win 2-0.
Henry explained that Darwin is a clinical finisher but not at the level of Robbie Fowler.
"He's the type of guy where when he gets one then things will come. I don't think he's a finisher like Robbie Fowler but not a lot of people are finishers like Robbie Fowler, but he has goals in him. He's a bit more of a handful."
However, he is showing some characteristics of young Luis Suarez at Liverpool as well as Alexis Sanchez at Arsenal as he continued saying,
"Sometimes he will rush up a bit like Alexis Sanchez or a young Luis Suarez when you felt like things were bounding off of him and stuff like that but when you start to master what you're good at, then you can control it better. And I think that will happen to him. I think he can do that."
The former Arsenal striker, Henry also explained that Nunez has a lot of pressure in replacing Sadio Mane and happens to make mistakes. He added,
"I went through that. When you come in as a big signing and just overdo it at times. Coming in after Sadio Mane, that's not easy to do and you just overdo it instead of being calm and finishing."
Read more exciting news at Football Devils.