Brazillian and Real Madrid star Vinicius Jr. has finally responded to the racial critics who called him Monkey. The reply was against the President of the Association of Spanish Agents who called out Vini's dancing celebrations.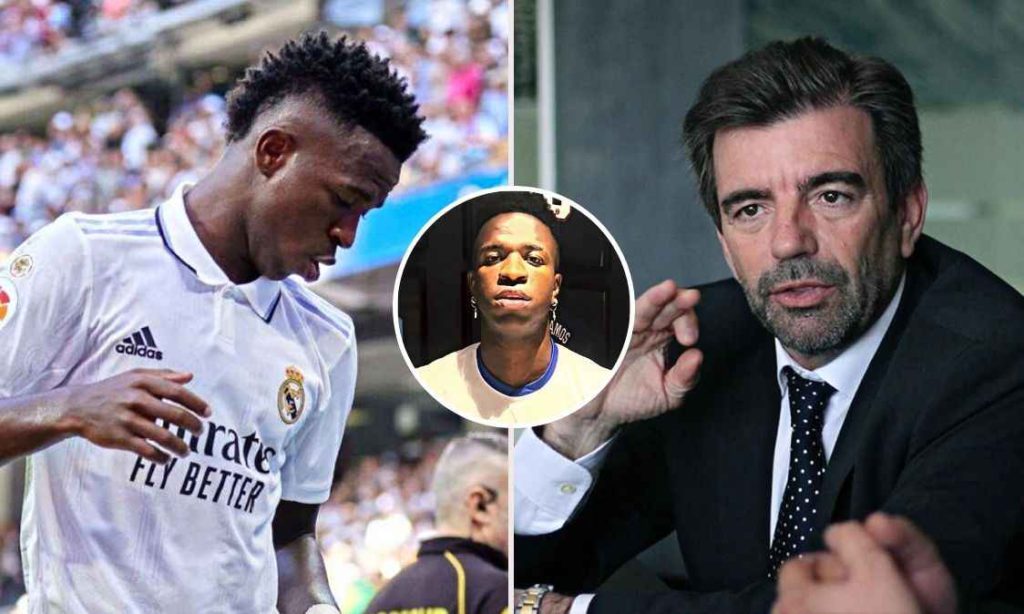 What happened to Vinicius Jr and how he responded?
Vini Jr. has been at the top of the game for Real Madrid and he is hoped to do so for Brazil in the coming World Cup 2022 too. He has been smashing goals and giving assists. And Real Madrid's winger loves to skillfully humiliate opponents with his dribbling and celebration is iconic too.
However, some officials do not seem to like the fact that some Brazillian are dominating in Spanish football.
On Friday, the Spanish official named Pedro Bravo mocked the player. He told that Vinicius should go to Brazil if he wants to dance. Pedro is also the president of the Association of Spanish Agents.
Moreover, Bravo compared the player with Monkey as he continued saying,
"In spain, you have to respect rivals and stop playing the monkey."
Vini's reply to Monkey Slurs
Following the racial abuse, several players have come out in media and supported the Brazillian footballer. One of them is his countryman Neymar Jr. who asked Vini to continue doing so.
And a few hours later, Vinicius himself has replied to his critics and hate towards him. He said that, he has been the victim of racial slurs since many years ago as he said,
"I was a victim of Xenophobia and racism in one statement. None of that started yesterday."
He added the statement after saying,
"As long as skin color is more important the brightness of the eyes, there will be war. I have that phrase tattooed on my body. I have that thought permanently in my head."
Similarly, he took the reference to his dance and said that mocking the dance won't much do better. As he said,
"Weeks ago, they began to criminalize my dances. Dances that are not mine. They belong to Ronaldinho, Neymar, Paqueta, [Antoine] Griezmann, Joao Felix, Matheus Cunha… they belong to Brazilian funk and samba artists, reggaeton singers, and black Americans."
Similarly, several other footballers and associates have also defended the Real Madrid winger.
His club, Real also released a statement in which they threatened to file a case against the one who racially abuses their players. It stated,
"Real Madrid wants to show all its love and support for Vinicius Junior, a player who understands football as an attitude towards life based on joy, respect and sportsmanship."
And they added,
"The club has instructed its legal services to take legal action against anyone who uses racist expressions towards our players."
Read more exciting news at Football Devils.