English footballer Jesse Lingard has been thrown fake money by the fans in a match between West Ham vs Nottingham Forest. West Ham fans accused him of choosing Money over the club.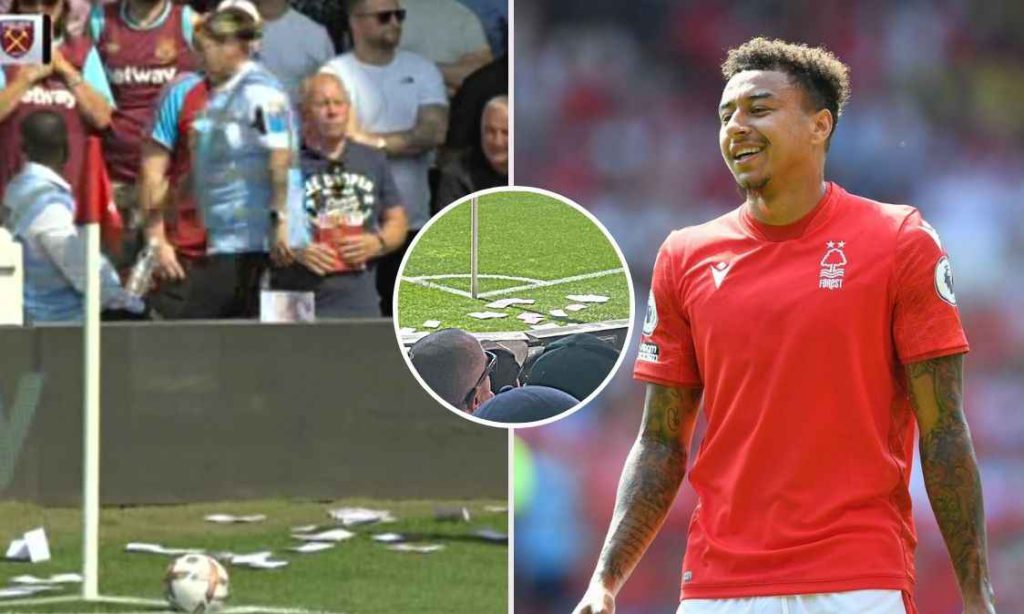 Who threw Fake money toward Lingard and Why?
How far do you think a fan would go if a hugely admired player betrayed the club for money?
In a match between Nottingham Forest and West Ham, severe scenes were seen where fans were recorded throwing fake money at Forest's midfielder, Jesse Lingard.
Jesse Lingard recently joined Nottingham Forest on a free transfer as his contract expired at the end of the 2022/23 season. Lingard, who was previously on loan at West Ham and made a good influence on the team was hugely likely to join them permanently.
However, Jesse decided to join the newly promoted team, Nottingham Forest which offered him better conditions. As per sources, Jesse earns a whopping sum of 200,000 pounds per week at his new club. It is far more than what West Ham offered.
That's why West Ham fans are not happy with his decision to not join them despite getting loved by fans as well as the club. That may be the reason for today's incident of throwing fake cash at the former Manchester United midfielder.
Read also: How former Dutch footballer criticized Barcelona and called Laporta to be an IDIOT
Jesse Lingard defended himself from fans and Jamie Carragher
Just after he signed a one-year deal with Nottingham Forest on July, not only the fans, English commentator, and former Liverpool defender Jamie Carragher too criticized Lingard for joining Nottingham for money. Jamie told,
"He went there for the money. I love Nottingham Forest, that they are back, but if any footballer is picking Nottingham Forest right now, before West Ham and what they've done in the last two or three years, they've obviously gone there for a few quid."
Following the criticism, Jesse too hit back at Carragher and critics. He stated,
"I could have gone abroad for a lot of money but I want to stay in the Premier League. "
Read more exciting news at Football Devils.