Lewandowski to Barcelona in this transfer window is one of the most talked news recently. After spending more than 8 years at Bayern Munich and winning almost every trophy with the club, Lewa made his dream move to Spain. However, some Bayern fans did not seem to be happy with their former striker as they expressed their frustration. And they have found the most brutal way to mock Lewandowski.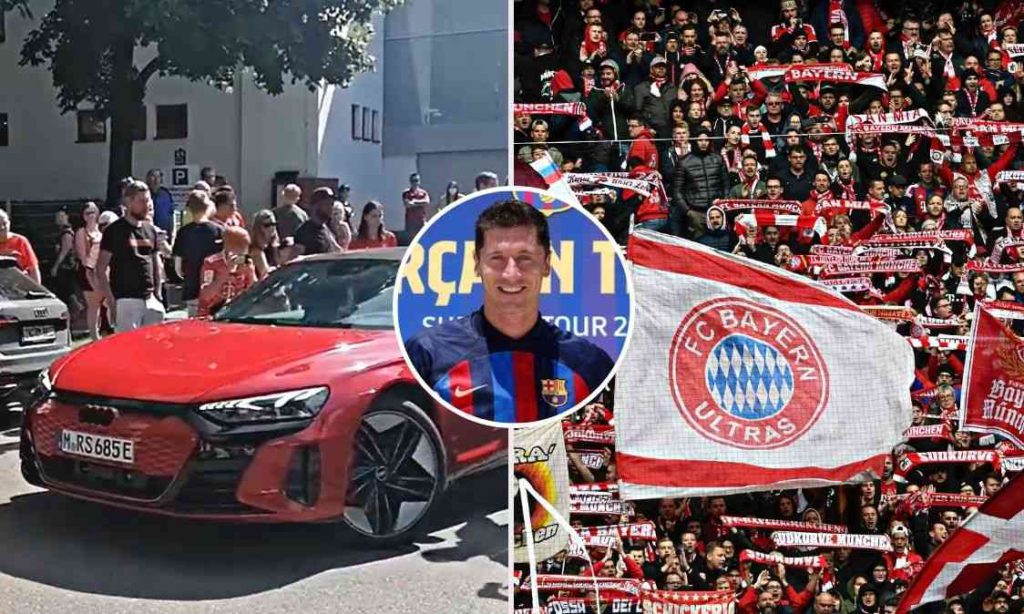 What was said to Lewandowski?
Robert Lewandowski has been playing for the German teams for more than a decade. After playing in Borussia Dortmund for 4 years, he joined Bayern in 2014. Since then, he has been a key player for the team, scoring 238 goals in 254 matches. And he won everything with the club including the treble in 2020.
Bayern fans chanted 'Hala Madrid'
Despite all these, recently some Bayern fans were recorded chanting "Hala Madrid" to Lewandowski. And the video has gone viral on social media.
The event happened recently when the Polish striker was seen leaving the training ground of Bayern. Fans gathered around the road as Lewa passed in his Red Ferrari. Different chants were shouted at the former Bayern striker. However, one chant was particularly noticeable.
One of the fans started shouting 'Hala Madrid' and others too followed the slogan. Others were heard laughing in the background. Robert may have heard the chant but he did not show any reaction as he just gave thumbs up to all the fans.
The reason why some fans chanted 'Hala Madrid', a slogan of Real Madrid is pretty clear. It is in response of him joining Barcelona, a rival of Real Madrid.
Bayern and Lewandowski feud
It seemed Bayern and Lewandowski were inseparable. However, Lewa's last years at Bayern did not go as planned as a feud started happening between them. Controversies started to happen between them even before the start of the 2021/22 season. But it peaked around the end of the season and as a result, Bayern sold their prolific striker to Barcelona.
In an interview with Sport Onet, Lewa clearly told how he felt in Munich,
"I just want to leave Bayern. They didn't want to listen to me until the end. Something died inside me and it's impossible to get over that. Even if you want to be professional, you can't make up for it."
Rober also continued saying that, he hoped Bayern won't stop him from leaving the club and transfer was the best solution. As Robert's contract with Bayern was till 2023.
In response to that, Bayern's director, Oliver Kahn said,
"I can't tell you why Robert chose this path. Public statements like that don't get you anywhere. Robert became world footballer here twice in a row – I think he should know what he has at Bayern. Appreciation is not a one-way street."
No way, Bayern fans, and club members would like the way Lewandowski treated the club in his last weeks at the club. Robert L even comments that he regrets having a feud with the club, that gave him everything. He stated,
"It has been eight wonderful years here. So I hope that with a little distance we can forget what happened in the past weeks. There were unnecessary things from both sides. The most important thing is what we have achieved together: the titles, the victories."
Read more exciting news at Football Devils.